Posted by Vonda- Lee Sharun on 2021 Mar 24th
Being asked to be a flower girl can be a special time in a child's life. It can be a lot of fun to dress up and have a special role for an important day. I have spent the last 4 years dressing flower girls, and here are the most frequent questions I am asked: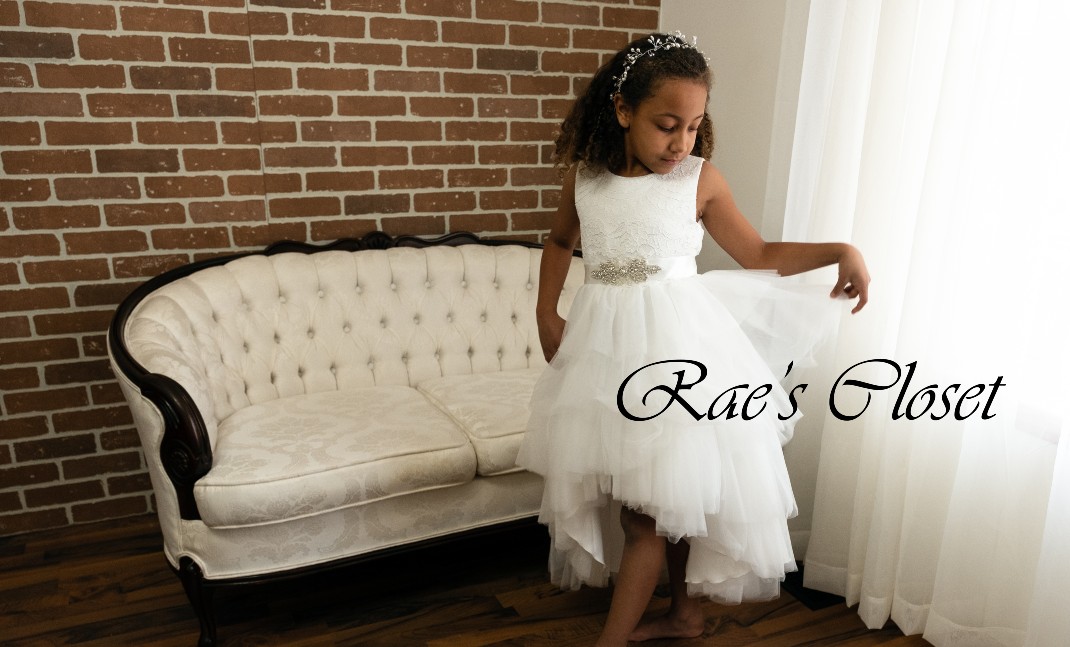 Model is wearing our Crystal Ball Gown in White
Where do I start? I often have Moms or Brides contact me a little overwhelmed. When you are just starting out your search, there are a few decision that you need to make.
The approximate size of the dress needed. If you know the date of the wedding, you can figure out the approximate size that you will need. It is very rare for children fit their age-size. What I recommend is figuring out what size your child is currently wearing (remember that formal wear is more fitted then a t-shirt), then use that information to determine the size they will need for the event. Custom sizing is a great option and if you choose to go this route, plan to order the dress 2-3 months before the date with measurements taken and some room to grow.
The color of dress. Brides might want a dress to match the color of their dress (white/Ivory/black), the colors of the bridesmaids/groomsmen or a the color of their décor. There is no wrong answer, but this will help you know what to look for. Even if you are happy with a few different shades, it is good to come into a store (or website) with colors in mind.
The style of the wedding. Are you looking for a ball gown, or a bohemian lace dress. Once you know the style you are going for, you can let the stylist know or search the website for dresses that will work.
2. Who pays for the dress?
There is no rule as to who pays for the flower girl dress, but expectations should be discussed when you ask the parents of the child about being a flower girl. Let parents know the costs involved: dress, shoes, basket, hair appointment, etc. In most situations, the parent of the child pays for the dress, but many times the couple getting married decide to pay or occasionally a grandparent will offer.
3. When should you buy or order the flower girl dress?
Typically a Wedding Gown should be ordered 10-8 months before the date, once you know what the couple is wearing (suits take less time), you can start looking for a flower girl dress. Anywhere from 6-3 months before your date is a good time. Be sure to order the dress at least 2 months before you date and don't leave the decision last minute as it will limit you options and increase stress.
4. What should you ask before buying a dress?
Ask the store or check the website to see what the return or exchange policy is. At Rea's Closet we allow both returns and exchanges as per our policy on items unworn, washed, damaged, or altered. Please contact the store you are planning on buy the dress from to see their policy before you purchase as kids can grow fast an occasionally plans can change - thanks Covid :)
5. How do I get matching dresses for a wide size range?
Just let the store or website know, if you are looking at our dresses, you can email me at vsharun@raescloset.ca and let me know what you are looking for. I would be happy to help you pick a dress that will look right on different ages or styles. I can often do a custom look for jr. bridesmaids to match with flower girls.
6. I have a bridesmaid dress that I would like to match exactly.
It can be hard to match a dye lot from another designer. What I recommend in this situation is to pick a flower girl dress in a different color (white/ivory/champagne) and then use the hem off the bridesmaid dress when it gets altered to make a matching sash. That way you can make sure it is a perfect match.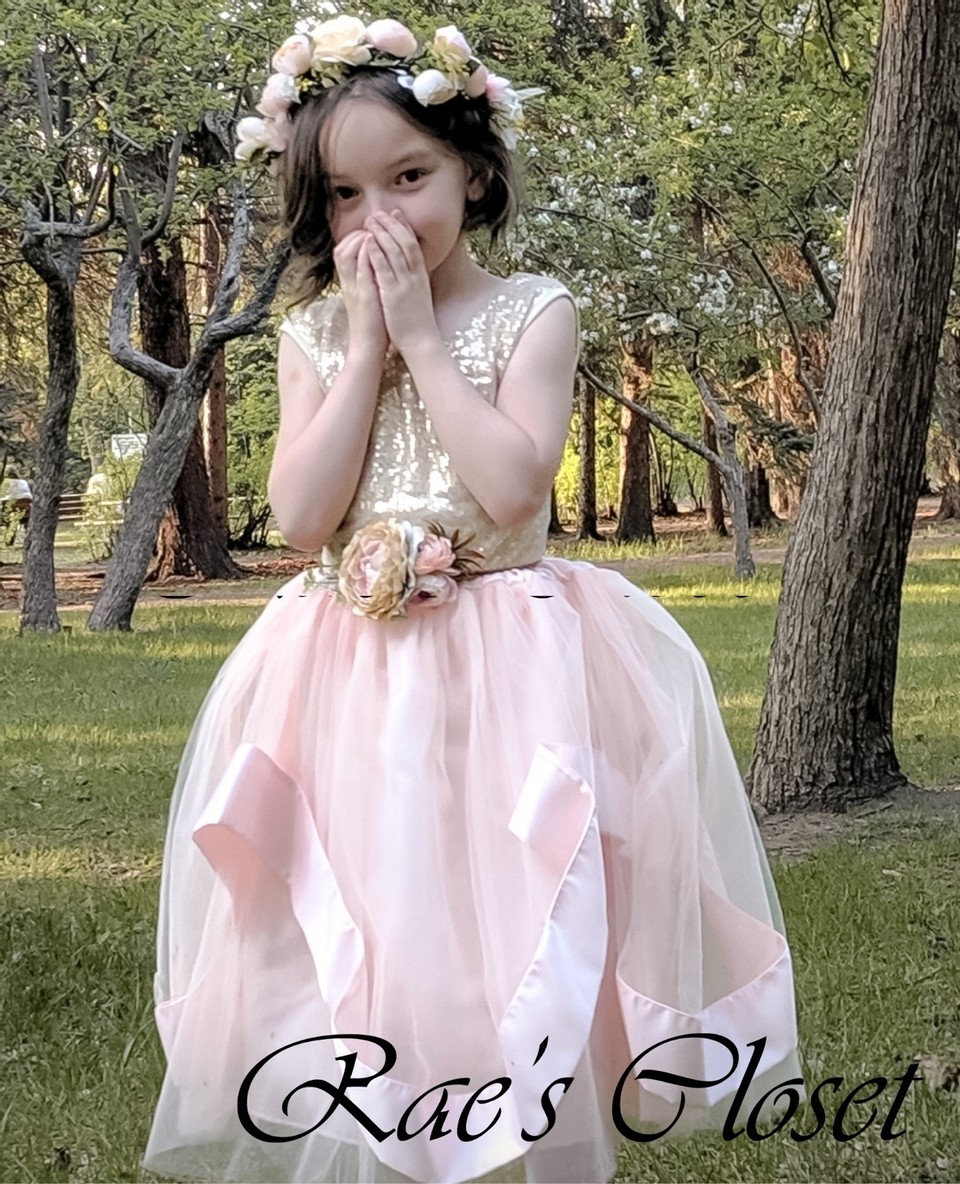 Model is wearing our Hailey skirt in Blush and Gold Sequin Bodysuit with Rae's Closet Flower Crown and Accessories