Posted by Vonda-Lee Sharun on 2021 Jan 1st
When I think of a winter wedding my mind goes to glamour. Nothing is more striking the diamond white dresses and icy bling details. This color pallet is perfect for a snowy wedding day, but whether eloping in the mountains or planning a beach celebration, this timeless look will always feel fresh and bright.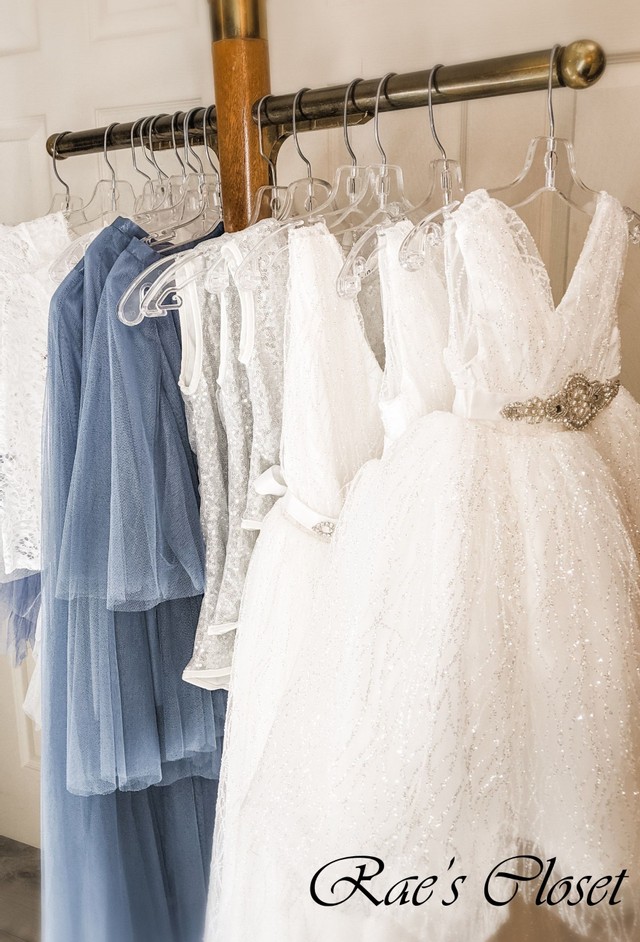 To Get this Look
Go for cooler toned whites, or whites with a bit of blue often called Diamond White.
Grey toned blues will look best and you can really go as dark or light as you want. I love blue for bridal parties, as blue looks amazing on so many skin tones.
Ground the look with a grey base or grey toned woods and natural elements. I think it is important to bring nature into every theme. It can also bring a lot of needed warms to the icy look.
Add the BLING. Dress up this look with a little sparkle. You can go big or delicate, but make sure every addition brings out the beauty and doesn't take away the focus.
Avoid
Stay away from creams and ivory. Whites are the hardest color to match. Remember that even white roses can have a lot of natural warmer tones. Men's dress shirts are typically a cool toned white, but don't by an ivory shirt by mistake.
Invest in smaller pieces to save money and avoid big plastic pieces. OR if you do, do it on purpose in a statement piece. Be honest with yourself, if a piece is tacky and you LOVE it, KEEP IT. But don't pretend that it is expensive, love it for what it is.
Little things can add up $$$. Don't spend to much on a a bunch of little things, the money will be better spent on bigger things that people will notice and you will remember. Splurge on you and your bride/groom with quality jewelry that you can wear again. A beautiful hair piece or necklace can be worn every year for your anniversary, but that glitter confetti for the table centers can go...please....
Flower Girl Dress Guide
Our Harlow Sparkle Dress is perfect for this look! Like made for it!! Every kid is drawn to all the sparkle in this dress, fit for a real Ice Princess. I was really inspired by the fabric in the creation of this dress and every detail is made around the striking sparkle lines in the tulle. This dress is even more beautiful in person, so be sure to check it out in one of our local stores!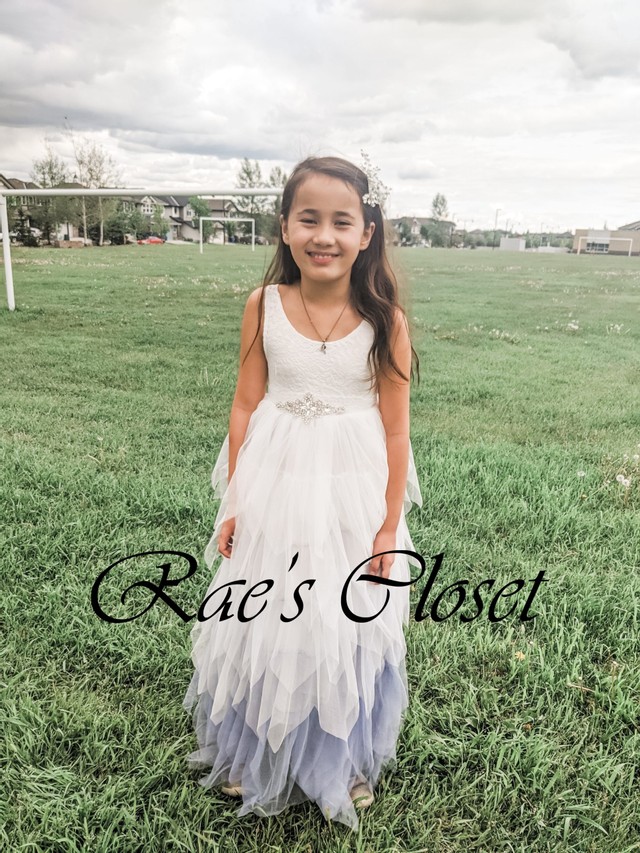 Our Ombre Blue Gia Dress is good option to bring together different shade that can be hard to match between bridesmaid and tux shops. Available with full length, 3/4, cap sleeves or sleeveless. We designed this gorgeous blue ombre dress with 6 layers of tulle; 2 white, 2 icy blue and 2 slate blue layers with a satin lining. The lace top has the softest stretch lining and an open back with a cut lace edge. We can even add an extra layer or two of navy to give a custom look. At only $84.99 CAD this dress is our most popular style for a reason.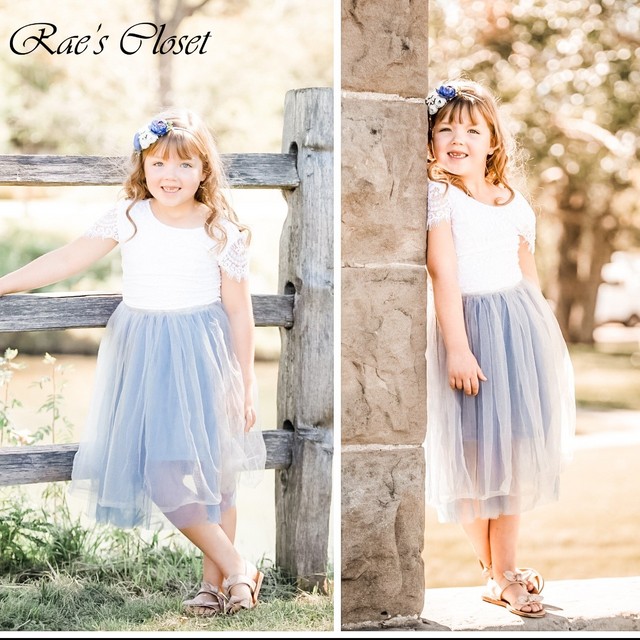 Mix and Match! I love it when the bride let's the girls express their own style and put together a semi custom dress. Choose unique tops for each and bring it all together with a slate blue skirt, (available in infant to women sizes). We currently have 7 different tops and 10 skirt options for so many dress combinations. Sew it together as a dress or keep it separate as a two piece that can be worn again and again!